5 Healthy lunches for kids
Posted on September 29 2017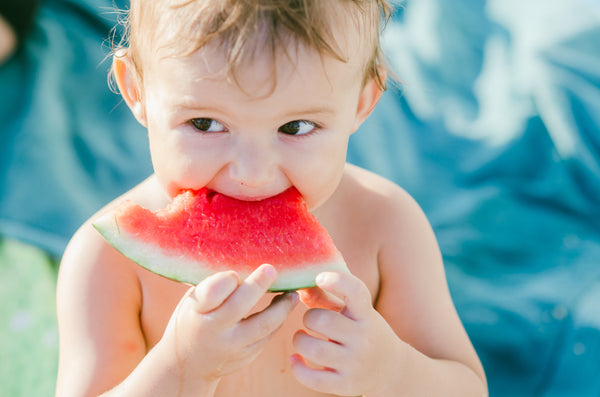 Here are some great healthy packed lunch ideas easy to take to the beach or family trips. These are 5 solutions for when you need a quick (yet solid) packed lunch and are out of ideas.
1. Black Beans over Brown Rice with Cherry Tomatoes and Romaine on the Side.

It seriously doesn't get any easier than this. I love that this is a filling meal that'll leave their bellies feeling full.
Ingredients:
• 1 packet pre-cooked organic brown rice
• 1 can black beans (organic preferred)
• 1/4 cup cheddar or Monterey Jack cheese, shredded (organic also preferred)
• Cherry tomatoes
• Romaine lettuce, chopped
• Optional dressing
Directions:
1. Open package of rice and place on microwave-friendly dish. Open can of beans, drain, and add desired amount on top of rice. Top with cheese. Heat in microwave and transfer to lunch container or thermos.
2. Wash and chop romaine. If you are in a pinch, bagged romaine will work fine, too. Add to divided lunch container. Top with your favorite salad dressing (optional).
3. Add cherry tomatoes.
 
2. Pizza English Muffins, Broccoli and an Orange

An oldie but goodie, I have yet to see a child turn his nose up at this. I mean – pizza, right?! Full transparency – this one takes 5 minutes to cook the "pizza" and a few minutes to heat the broccoli in the microwave, but you're technically done prepping quickly, which is why I included it.
Ingredients:
• Whole grain English muffins (sub gluten-free if needed)*
• Pizza or marinara sauce
• Mozzarella cheese, shredded
• Toppings of choice (sausage, peppers, mushrooms, bacon, onion, etc.)
• Frozen (or fresh steamed) broccoli
• Sliced orange
Directions:
1. Split english muffins in half. Top each with sauce, and then with cheese. Place toppings on English muffins and place in a toaster oven for 5 minutes, or until cheese is melted.
2. While pizza muffins heat, take frozen broccoli out of bag and cook in the microwave according to directions on the package.
3. Place both in divided lunch container.
 
3. Hummus Dipper Lunch

This lunch is an absolute breeze to pull together, and you will likely have most of these items already on hand.
Ingredients:
• Hummus (1/4 cup+ per child)
• Bell pepper slices
• Carrot sticks or baby carrots if you don't feel like cutting :)
• Celery sticks
• Cherry tomatoes
• Whole-wheat pretzels
• Whole-grain crackers
Directions:
1. Open hummus and add to divided lunch container.
2. Add peppers, carrots, celery and tomatoes to divided lunch container. Add pretzels and crackers.
 
4. Chicken Salad on Whole-Wheat Bread + Diced Melon and Banana

There are so many options for variety here, you can do whatever works best based on the foods that you have. Don't have any whole-wheat bread? Send it with crackers or pretzels (from the lunch above). No melon on hand? Substitute with another fruit or vegetable. Do what works for you, momma – it's all good.
• 10 ounces organic canned chicken, drained
• 3-4 Tablespoons mayonnaise
• 1 Tablespoon pickle relish, optional
• Diced melon
• Banana
• Whole-grain bread or crackers
Directions:
1. Mix chicken and mayonnaise with relish. If your child will like it, feel free to add in sunflower seeds, raisins, diced apples, etc. My kids do not like these mix-ins, so I generally leave it basic.
2. Add bread, melon and banana to divided lunch container. Your child can put the chicken salad on the bread at school to avoid it from getting soggy in transit.
 
5. Cheese Quesadilla, Lentils, Strawberries and Peas
Another super easy one. If you can turn on the microwave and open a can, you're more than halfway there.
Ingredients:
• Whole-wheat tortillas (sub whole-grain corn tortillas for gluten-free)
• 1/4 cup Monterey Jack or cheddar cheese, shredded
• Canned lentils
• Organic strawberries
• Frozen peas
Directions:
1. Place cheese on tortilla on a microwave-safe plate and heat for 20-30 seconds, until cheese is melted. Fold in half, and cut into halves.
2. Open can of lentils. Spoon some into a divided lunch container.
3. Wash strawberries; cut off tops and slice in half. Add these to one spot of the container, and the peas to another. Sending them frozen is fine; they will defrost by the time lunch starts.
Hope you enjoy these healthy lunches with your kids and family and that you have lots of fun on beach trips and adventures together!
Have a wonderful spring!
Love,
Daniela